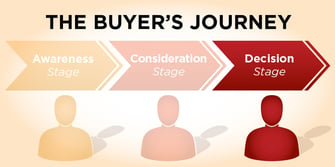 In the first two Content Marketing articles, we discussed both the awareness and consideration stages of the buyer's journey. We touched on the types of content work well for each. We'll dive into the decision stage in this final article of the series, but first, let's do a quick recap of where we started.
Awareness stage content should focus on defining the problem. People in this stage are looking for answers and approaches. Content here should be educational with few strings attached. People are in a mode of learning and exploring. They will remember you if you are who helps them define their problem.
Consideration stage content focuses on possible solution strategies. People in this stage have defined their problem. At this point, they and are weighing options on ways to solve the problem they've defined. Content created for this stage should compare and contrast solutions. Which strategies work best to solve a problem? What are the pros and cons of each solution strategy?
Once a prospect has chosen a solution strategy, the final step is deciding between specific solutions. Up to this point, your content should have shied away from touting your brand. Decision stage content however is different. This is the time to put your brand front and center. The decision stage is your moment to shine.
Someone at this stage is ready to buy, but that doesn't mean they'll buy from you. That means, the most important thing at this stage is to show them why they should buy your product or service over others. Now is the time to close the sale.
Download Your FREE eBook "Content Marketing for The Buyer's Journey"
Content Formats that work well for the Decision Stage
Decision Formats that work well because a prospect has decided on their solution strategy, method, or approach include:
Vendor comparisons
Product Comparisons
Pricing pages
Case Studies
Customer Success Stories
Trial Downloads
Live demos
These formats all prompt more direct action. Prospects are ready to make a purchase and content at this stage should help them make that final decision. At this point in the buyer's journey, you already know that someone is interested in what you do. It comes down to convincing them to pull the trigger and purchase from you.
Oddly people often don't consider pricing pages and product comparisons as decision stage content, but that's what both are. They are perfect examples of content designed to help someone make that final purchase decision. They highlight what you offer that the competition doesn't, and that can give prospects the final nudge to purchase.
A Good Content Plan Covers the Entire Buyer's Journey
We've touched on the very basics of content marketing in this series and how a good content plan should match the buyer's journey. That journey starts at the top of the funnel in the awareness stage when there are numerous possible prospects.
A good content library will help the right ones find you and become leads that investigate further into the consideration stage. That consideration stage content is often the most overlooked, but no solid content plan should roll out without it.
The most important content you create is the decision stage content. Prospects in the decision stage are in the right state of mind to buy and what content they find in this mindset could make or break the sales process.
Prospects need the right information to make informed decisions. If what you offer can solve a problem or fit a need, well-crafted decision stage content can seal the deal. Information at this stage needs to be just as honest and authentic as anything else you've created. After all, if a prospect decides to become a customer, you want them to have a good experience with your company. There is no chance they ever become promoters of your brand if you've convinced them to buy something that didn't solve a problem or fill a need.
Content marketing, through all stages of the buyer's journey, is a process that requires the right information at the right time. A good content plan will be based on a thorough understanding of buyer personas and their buyers' journey. A well-executed plan will anticipate the steps in the journey and help guide prospects from one natural step to another. If the fit is right, a good content plan can make all the difference in convincing the right people to buy.
Don't miss the other two parts of the series: Part 1 and Part 2.
--
Download this series of articles in a detailed eBook format!